United Welsh has ranked second in the UK for the Top 10 housing associations building the most homes rated EPC-A in the last 12 months.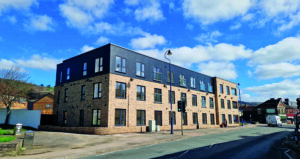 The annual Inside Housing Biggest Builders survey collects data about the development outputs of housing associations; including most homes built for social rent, the number of EPC-A homes built, and more.
After completing 137 new homes in the 2022/23 period, of which 103 were rated EPC-A, United Welsh ranked second among UK housing associations for building the most EPC-A homes, and the highest in Wales.
We also placed third for the number of EPC-A homes built as a percentage of its total new-build homes.
An Energy Performance Certificate (EPC) measures the energy efficiency of a property at the time it was issued. EPC-A is the highest rating of energy efficiency that a property can be awarded.
Lynn Morgan, Executive Director of Development, Assets and Sustainability for United Welsh said:
"EPC-A homes represented 75% of our total build programme last year, which demonstrates our ongoing commitment to provide much-needed energy efficient, affordable homes for our communities.

"We have also recently created Celtic Offsite, a social enterprise that manufactures timber frame structures for low carbon homes. Celtic Offsite will support our development plans as we strive to deliver more high quality, affordable homes that are warm, safe and happy places to live in the years ahead.

"Tackling the affordable housing crisis in Wales remains a top priority for us."
United Welsh provides 6,500 homes across 11 local authorities in South Wales. In the next five years, they intend to build at least 1,300 more.
Our new EPC-A homes are in Llanbradach, Penallta and Trethomas in Caerphilly.
The Inside Housing Biggest Builder survey results about EPC-A homes were published in their August issue.
ENDS