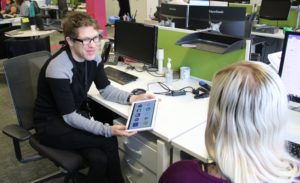 Are you interested in doing work experience with United Welsh or our repairs subsidiary Celtic Horizons?
We have previously supported work experience for tenants, local residents, students from schools, colleges and universities and graduates.
Some of the teams that have provided work experience include:
• The Neighbourhood team who look after our tenants and improve the quality of life in our communities
• The Communications team who promote the United Welsh brand and manage our communications channels
• The Finance team who manage our accounts, rent payments, bills and budget plans for now and the future
• The Digital Solutions team who make sure our technology and systems are running smoothly and fit for the future
• Celtic Horizons who look after repairs and maintenance at our homes, as well as grounds work and cleaning services
The work experience we offer is on a voluntary basis and won't lead to a paid position, but you will learn new knowledge and skills.
If you are interested in work experience or a placement, please contact us using the form below.