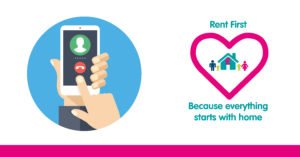 As part of our Rent First campaign, we're raising awareness of the different ways that tenants can pay their rent to help people to switch to the easiest method for them.
If you are a United Welsh tenant, you can pay your rent online with debit or credit card by clicking the 'Pay your rent' button on the homepage of this site.
It is one of the quickest and easiest ways to pay.
Alternatively, are you registered on our Tenant App?
It is an easy way to pay your rent quickly from your mobile phone or tablet and keep track of your balance.
To register, download the app FREE from the Apple store or Google Play, or click the 'Tenant Zone' button on our homepage.
You can also pay your rent by text. Register at: www.allpayments.net/textpay and then once you have registered, you can pay using a debit or credit card 24 hours a day.
If you prefer to pay your rent in person, you can go to a PayPoint or your local post office. Simply use your rent card or scan the barcode on your rent letter.
For more information on other ways to pay, visit our Ways to pay your rent page.
Rent is due in advance on the Monday of each week, but depending on what you prefer, you can also pay in advance every two weeks or four weeks or monthly.
If you or someone you know would like to change the way you pay rent to us to a more convenient option, but you need help or advice, we can help you make the switch.
Get in touch with us online or call 0330 159 6080.