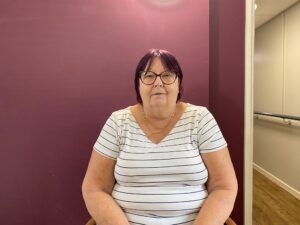 Margaret previously lived in an almshouse – a self-sufficient community housing scheme ran by charities – in Devon, but after health issues, Margaret decided she wanted to move back to Wales to be closer to her children. She moved into Cole Court, a United Welsh sheltered housing scheme for people aged over 55 in Caerphilly.
"Lynn, the Scheme Manager, was very helpful when I was applying" Margaret said. "She helped me sort my finances out and reassured me when I first moved in."
Like many people, Margaret experienced loneliness during the lockdowns, and missed being around people.
"I'm a people person, and I need people around me. I like that there are a lot of people at the scheme who are lovely. If you walk past and see someone in the communal room, you can pop in and have a coffee with them."
Living in Cole Court gives Margaret freedom to visit new places whilst still coming home and having extra support if she needs it.
Moving in during the pandemic has meant that social activities were previously limited, but Margaret enjoys getting involved with things happening around the scheme.
"There's a coffee morning happening this week which I'm looking forward to. There's also a gardening club on a Wednesday, and although I'm unable to participate, I enjoy having a coffee with the group and seeing the garden."
"Coming here was a lot of relief for me."
To find out more about Living Well, click here.